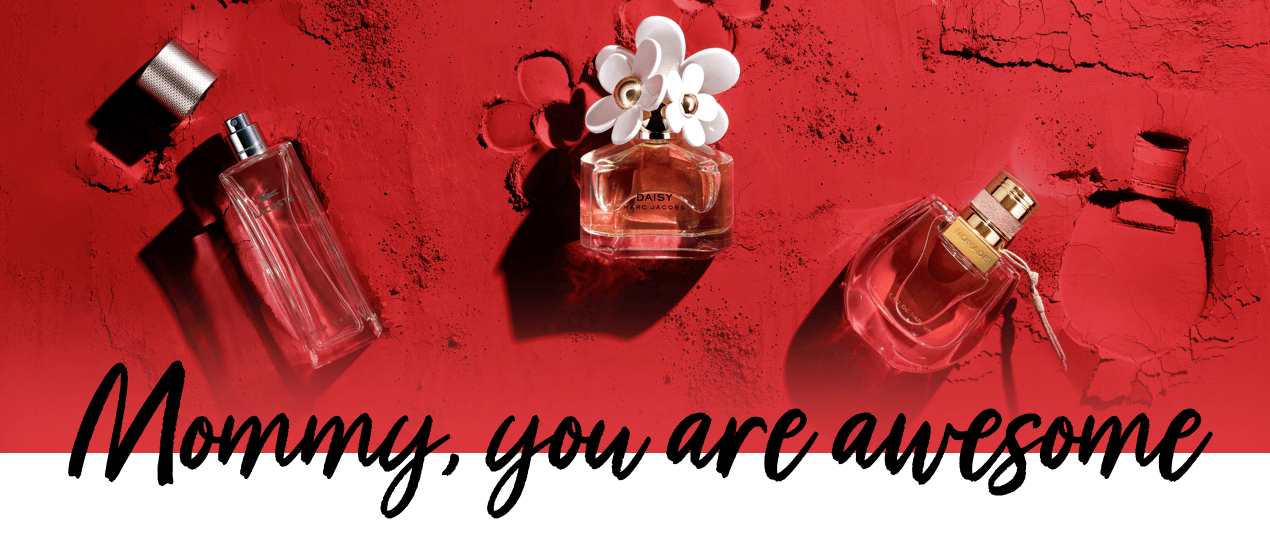 parfumdreams zet alle moeders in het zonnetje!
Voor onze moeder alleen het allerbeste! Snuffel door ons veelzijdige assortiment aan nieuwe producten, bloemige geuren, make-up en verzorgingsproducten en geef echte hoogtepunten! Met onze aanbevelingen voor Moederdag zorgt u voor mooie momenten.
Onze favorieten voor Moederdag
Geef een klassieker cadeau voor Moederdag
100% vreugde
Onze aanbevelingen voor Moederdag
Moederdag – cadeaus om haar een plezier mee te doen
Het is bijna weer zover: we hebben één keer per jaar officieel de gelegenheid om onze moeder te bedanken. We kunnen haar laten zien wat ze voor ons betekent en haar met een cadeau een plezier doen. Op Moederdag gaat het erom waardering te uiten voor wat onze moeder allemaal voor ons doet en gedaan heeft en haar hier iets kleins voor terug te geven.
We laten u in dit artikel zien welke cadeaus op Moederdag het meest in de smaak vallen. Laat u inspireren door het brede aanbod op parfumdreams. In onze webshop bent u maar een paar klikken van het perfecte cadeau voor uw moeder verwijderd. U krijgt hierna een indruk van wat u op Moederdag 2020 allemaal cadeau kunt doen, welke producten bijzonder in de smaak vallen en wat geschikt is als kleine attentie voor de beste moeder ter wereld.
Wat kunnen we op Moederdag 2020 cadeau doen?
Op Moederdag 2020 staan luxueuze wellnessmomenten centraal. Op deze unieke dag willen moeders zich bijzonder, uniek en gewaardeerd voelen. Geef haar met uw cadeau precies dit exclusieve gevoel cadeau. Dit klassieke moederdagcadeau is nog altijd geliefd: parfums! Op de voet gevolgd door cosmetica en hoogwaardige anti-aging-producten. Maar ook verzorgingsproducten voor wellness en geschenksets zijn het perfecte bedankje. Als u bij het kiezen van het moederdagcadeau voor ogen houdt hoe uw moeder zich bij het uitpakken moet voelen, bent u op de juiste weg. Dan gaan we eens kijken naar de beste cadeau-ideeën.
Het klassieke cadeau-idee voor Moederdag: parfum
Wilt u uw moeder dit jaar op een heel bijzondere manier bedanken door haar een liefdevol cadeau te geven? Dan is een parfum voor Moederdag vast en zeker de perfecte verrassing. Een parfum laat u goed voelen, werkt ondersteunend bij speciale gelegenheden en geeft u een prettige uitstraling. De geur zal niet alleen op Moederdag in de smaak vallen, maar wordt meteen als een klein onmisbaar accessoire voor uw moeder. Hier gaat u naar een exclusieve parfumselectie voor moeders. Filter gewoon op een bepaalde geur, een bepaald karakter of een bepaald bestanddeel – en zo vindt u al het juiste parfum.
Cosmetica als perfecte moederdagcadeau
Cosmetica is een goed cadeau voor Moederdag als u voor hoogwaardige en innovatieve producten kiest. Geef cosmeticaproducten cadeau die uw moeder anders niet voor zichzelf zou kopen. Hier gaat u bijvoorbeeld naar de top 10 van de populairste cosmeticaproducten van dit moment. Ook exclusieve anti-agingproducten, zoals de lijnen van Estée Lauder, BABOR, La Mer en DIOR doen het altijd goed.
Mama, bedankt voor alles – wellnesscadeaus
Een kaars voor Moederdag? Ja, ook een heerlijke geurkaars kan het perfecte cadeau voor uw moeder zijn. Deze zorgt voor een beetje luxe om een momentje voor onszelf te nemen in de hectiek van alledag. En op het gebied van wellness kunt u ook een natuurlijke badolie voor vitale verzorging en diepe ontspanning in overweging nemen. Met cadeaus die iemand goed laten voelen zit u altijd goed.
Geschenksets en deals voor Moederdag
Kunt u niet kiezen tussen een parfum, cosmetica of een exclusief verzorgingsproduct voor Moederdag? Of vindt u één product gewoon te weinig? Ga dan voor een geschenkset!
Veel merken, zoals La Mer, SENSAI, Paul Mitchell of Biotherm bieden speciaal hiervoor verschillende geweldige sets aan. U kunt bijvoorbeeld naar wens damesgeuren in een geschenkset samen met verzorgingsproducten en cosmetica kopen. Neem hier gewoon eens een kijkje om al onze aanbiedingen te zien. Daarmee weet u alvast zeker dat uw moeder in 2020 een fijne Moederdag heeft.
Uw moeder zal u hartelijk bedanken voor uw cadeau, voor welke optie u ook kiest. We hopen dat we u met onze cadeau-ideeën voor Moederdag inspiratie hebben gegeven en wensen u en uw moeder een fijne Moederdag 2020. We helpen u graag bij het cadeau doen. Bestel uw moederdagcadeau meteen online en ontvang het zo snel mogelijk.